Collect Earth provides an easy system for using freely available satellite imagery in Google Earth, Bing Maps and Google Earth Engine to classify land use and assess land use change over time.

Land use classification schemes can vary greatly by country or program. Several country-specific versions of Collect Earth software have been configured, as well as versions consistent with leading international guidelines (e.g. IPCC, Food and Agriculture Organization Forest Resources Assessment, etc.). This tutorial uses the Papua New Guinea Collect Earth version as an example for exploring the basic functionality of the software and its supporting tools.
Click on the steps below to view more details.
Useful settings and features in Google Earth
Google Earth serves as the main interface for Collect Earth software. Adjusting certain settings and familiarizing yourself with the basic functionality of Google Earth can enhance the experience of using Collect Earth. A few tips are below.
Click on each heading to view more details.
New perspectives with Bing Maps
Bing Maps is a web mapping service provided by Microsoft. Through Bing Map, high spatial resolution satellite imagery from Digital Globe can be viewed and used for land use assessments. Collect Earth plot locations have been linked with Bing Maps because the latter web mapping service has a slightly different geographic coverage. Some plots, such as plot ID#52416, have high resolution imagery in Bing Maps where only Landsat imagery is available in Google Earth. To zoom to the plot location in Bing Map, click anywhere within the plot in Google Earth.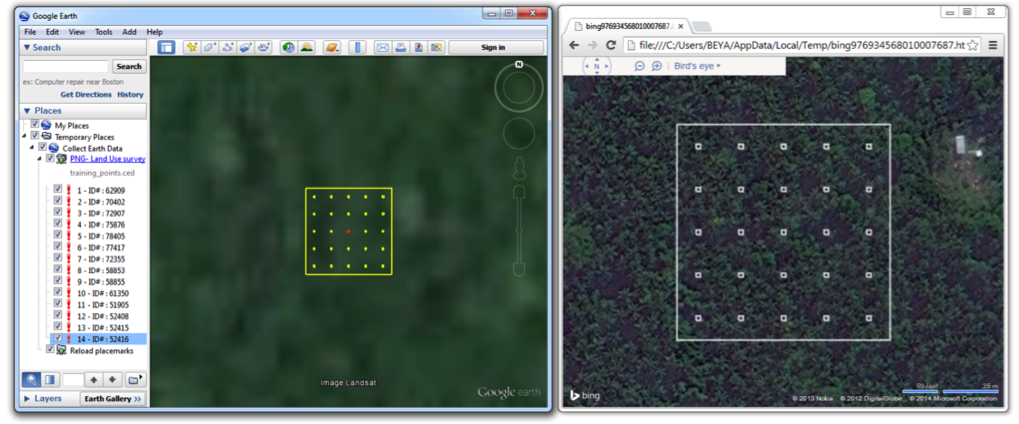 In the image above, Google Earth features medium spatial resolution Landsat imagery of plot ID#52416, while Bing maps provides high resolution Digital Global imagery over the same area. The Digital Globe imagery makes it easier to identify the vegetation as coconut trees (agricultural land) rather than forest land.
Google Earth Engine is a web platform for processing satellite imagery and other Earth observation data. Through its partnership with the United States Geological Survey, Google Earth Engine provides free access to coarse, medium and high spatial resolution satellite imagery acquired over the past forty years. Various types of pre-processed imagery can also be used for land use analysis.
One of the most useful land datasets available through Google Earth Engine is the Landsat Greenest-Pixel top of atmosphere (TOA) reflectance composite. These composites, which are available for Landsat 4, 5, 7 and 8, are created by drawing upon all images of a site for a full calendar year. The greenest pixels, with the highest NDVI (normalized difference vegetation index) value, are compiled to create a new image. These composites are particularly useful in tropical forest areas that may be prone to frequent cloud cover.
Navigate to plot ID#62909. The historical imagery within Google Earth shows that the plot falls within an agriculture area in December 2012. In October 2010, however, the plot was forested. Use Google Earth Engine to determine the year of the land use conversion. To view the plot location in Google Earth Engine, click anywhere within the plot in Google Earth.
Click on each heading below to view more details.