Collect Earth is a user-friendly, Java-based tool that draws upon a selection of other software to facilitate data collection.  The following training materials include guidance on the use of Collect Earth and most of its supporting software.  This information is also available online and in video format at www.openforis.org.  Documentation on the more technical components of the Collect Earth system (including SQLite and PostgreSQL) is available on the Collect Earth Github page.   Collect Earth runs on Windows, Mac and Linux operating systems.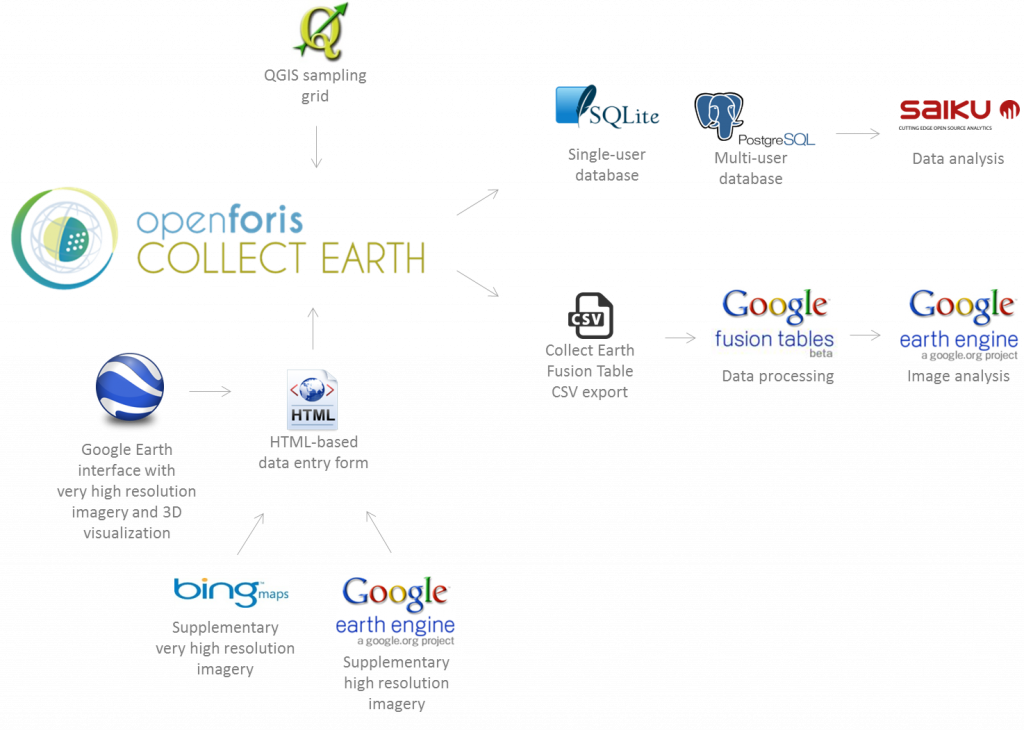 Collect Earth
Collect Earth uses a Google Earth interface in conjunction with an HTML-based data entry form.  Forms can be customized to suite country-specific classification schemes in a manner consistent with guidelines of the Intergovernmental Panel on Climate Change (IPCC), the European Commission (EC), the Food and Agriculture Organization of the UN and other international entities.   The default Collect Earth form contains IPCC-consistent land use categories and sub-categories with land use sub-divisions from the European Commission's Land Use/Cover Area frame Survey (LUCAS).   For guidance on creating new customizations of the Collect Earth data entry form, visit the Collect Earth GitHub page.  Chapter 3 explains the process of reviewing satellite imagery, assessing land use and land use change, and assigning attributes to sampling points through the Collect Earth data form.
Satellite imagery in Google Earth, Bing Maps and Google Earth Engine
Collect Earth facilitates the interpretation of high and medium spatial resolution imagery in Google Earth, Bing Maps and Google Earth Engine. Google Earth's virtual globe is largely comprised of 15 meter resolution Landsat imagery, 2.5m SPOT imagery and high resolution imagery from several other providers (CNES, Digital Global, EarthSat, First Base Solutions, GeoEye-1, GlobeXplorer, IKONOS, Pictometry International, Spot Image, Aerometrex and Sinclair Knight Merz). Microsoft's Bing Maps presents imagery provided by Digital Globe ranging from 3m to 30cm resolution. Google Earth Engine's web-based platform facilitates access to United States Geological Survey 30m resolution Landsat imagery. Collect Earth synchronizes the view of each sampling point across all three platforms.
The imagery used within Google Earth, Bing Maps and Google Earth Engine differ not only in their spatial resolution, but also in their temporal resolution. Collect Earth enables users to enter data regarding current land use and historical land use changes. Users can determine the reference period most appropriate for their land use monitoring objectives. The IPCC recommends a reference period of at least 20 years based on the amount of time needed for dead organic matter and soil carbon stocks to reach equilibrium following land-use conversion. Most of the imagery available in Bing Maps and Google Earth have been acquired at very irregular intervals over the past 10 years. In contrast, Earth Engine contains over 40 years of imagery that has been acquired every 16 days. The description of how to use Collect Earth in Chapter 3 includes guidance on navigating the strengths and weakness of these three imagery repositories to develop a more complete understanding of land use, land use change and forestry in a given site.
Sampling design in QGIS

QGIS is a free and open-source geographic information system that can be used to process data that can support the land use classification process. Where existing land use or land cover data is available in a spatial format, users can convert vector (points, line, polygons) and raster (images) data into KML files that can be viewed in Google Earth during a land use classification with Collect Earth. KML files are also compatible with Google Fusion Tables and can be imported into Google Earth Engine.
Chapter 5 provides instructions on converting spatial data and also creating a sampling grid. A default, coarse (5km x 5km) grid of sampling points is available for download on the Collect Earth website. However, a medium or a fine scale grid comprised of more points is recommended for a full and robust LULUCF assessment for a country or sub-national project site. Chapter 5 explains the process of generating a sampling grid and populating its attributes table to ensure compatibility with Collect Earth.
Database options: SQLite and PostgreSQL
The data entered in Collect Earth is automatically saved to a database.  Collect Earth can be configured for a single-user environment with a SQLite database.  This arrangement is best for either individual users or for geographically disperse team. A PostgreSQL database is recommended for multi-user environments, particularly where users will work from a shared network.  The PostgreSQL configuration of Collect Earth facilitates collaborate work by allowing users to see in real time when new data has been entered.  It also makes it easier for an administrator to review the work of others for quality control purposes.
Data analysis with Saiku Server
Both types of databases automatically populate Saiku Server, an open-source web-based software produced by Meteorite consulting.  A version of this open-source software has been customized for visualizing and analyzing Collect Earth data.  Countries using Collect Earth for a national land use assessment may generate data in Collect Earth for tens of thousands of points.  Saiku organizes this wealth of information and enables users to run queries on the data and immediately view the results in tabular format or as graphs.  Chapter 4 explains how Saiku users to can quickly identify trends and prepare inputs for LULUCF reporting to the UNFCCC and other entities involved in the sector. 
Image analysis with Google Earth Engine
Collect Earth facilitates land use assessment through a sampling approach rather than wall-to-wall mapping. However, land use data (point vector files) generated with Collect Earth can be used as training sites for wall-to-wall image classifications.  Chapter 6 reviews the procedure for using Collect Earth data to conduct a supervised (wall-to-wall) classification in Google Earth Engine.