Users accounts is the area of Collect where the inventory managers can manage the personnel involved in Survey workflow, assign roles and keep track of progress of data workflow.
From the home panel, clicking on Users accounts will open a window with a list current users: Name and Role.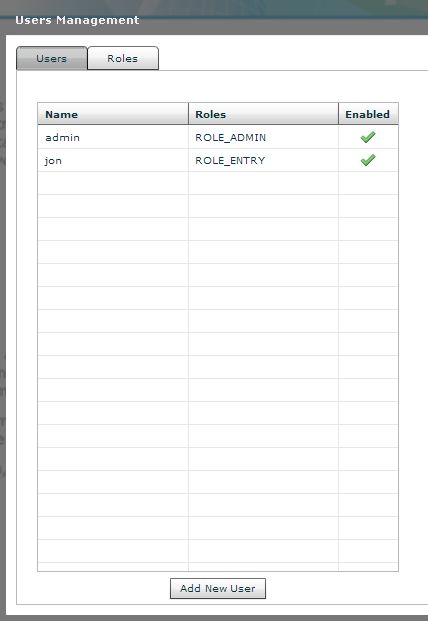 Clicking on a user will show User's details.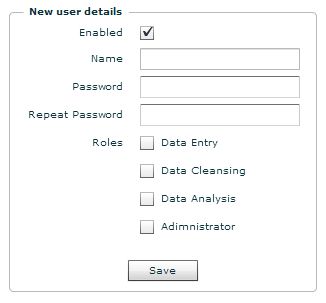 To add a new user click on Add New User at the bottom of the window and fill in user's details as appropriate. Then click Save.
User's details include Name and password and a check box for enabling access. Most importantly, each user will have a specified Role which will determine the level of access to different components of Collect and the ability to work on specific phases of data workflow.
Users roles:
Data Entry: Lowest level of permission. Data Entry users have acces only to data entry phase, they are allowed to enter new records, edit own records, submit them for clensing and export records.
Data Cleansing: Same as Data entry + permission to edit records in cleansing phase and submit them to data analisys.
Data Analysis: All previous rights + the ability to unlock records and re-submit them to data cleansing phase.
Administrator: Full rights. All previous steps + Survey designer, Users management and ability to import data (reecords) in Data Mangement. If needed, more then one admin is allowed.

Users-Roles management can also be done from the Roles tab.