Collect Earth, developed by the Food and Agriculture Organization of the United Nations (FAO) with the expertise of Google Earth and Earth Engine enables countries to assess and monitor forest cover, facilitating their reporting of greenhouse gas emissions to the United Nations Framework Convention on Climate Change (UNFCCC) in the context of the United Nations Collaborative Programme on Reducing Emissions from Deforestation and Forest Degradation in developing countries (REDD+).
Funding from the environmental arm of the German government, the International Climate Initiative (IKI), has enabled FAO to provide training and technical support to governments in the use of Collect Earth, revolutionizing their ability to monitor land use and desertification.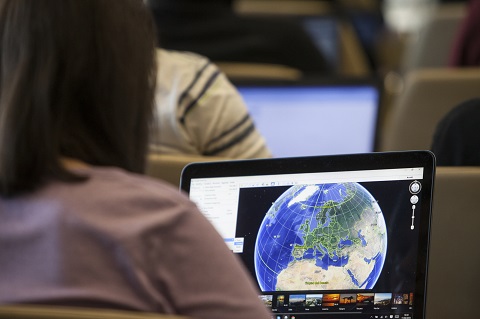 More than 30 countries are now using Collect Earth to manage and assess land use and land use change. In one example, the Forest Authority of Papua New Guinea, one of the world's largest reservoirs of biodiversity, recently completed its first full assessment of land use, land use changes and forests in support of its first ever National Forest Inventory. "Collect Earth enabled us to significantly improve our understanding of forest and land use in Papua New Guinea and their changes over time. Reliable information is essential for good planning and sustainable management of forest, a vital source of livelihood for the majority of our nation's population." said Goodwill Amos, Acting Managing Director of Papua New Guinea Forest Authority.
In Tunisia and Kyrgyzstan, national forest authorities are using Collect Earth to collect accurate inventories of forest cover in order to combat desertification. Satellite images that used to take days to download and years of expertise to process can now be analyzed and visualized in a fraction of that time. Collect Earth provides instant access to both very high spatial and very high temporal resolution data within a simple framework built upon Google technologies. Its simple interface and flexibility allow even non-experts to use it.
The U.S. Department of the Interior is using Collect Earth to strengthen developing country partners' collection methods to monitor land cover changes and control forest cover for climate mitigation and adaptation. As noted by Jean Parcher, former Project Manager for Department of the Interior's International Technical Assistance Program's Land Cover for Climate Initiative (LC4Climate), "the synergy between the Collect Earth team and the LC4Climate land cover and remote sensing trainers has provided rapid capacity development opportunities in Africa and South East Asia to develop National Carbon Emission Inventories. The Collect Earth package provided easy access to multi-temporal and high-resolution satellite imagery along with innovative tools for rapidly sampling changes to land use and land cover over time."
Collect Earth has also played an important role in the initial stages of the Global Forest Survey, a global web-based platform which will enable the sharing and collection of world forest data. As a first phase of the project, FAO, working with worldwide partners including governments, universities, research institutes and NGOs, recently conducted the first global assessment of forests and trees in the drylands at a regional level.
In an exercise that previously would have taken years but which was completed in seven months, Collect Earth made it possible to collect data from more than 200,000 sample plots around the dry regions of the world, covering 45% of the world's terrestrial lands with a systematic sampling design. More than 70 parameters were recorded on each plot, from land-use assessment to the detailed counting of small objects such as trees and shrubs, providing an unprecedented level of information. The assessment, which will go global, has revealed that the world's drylands host much more forest and woodland than originally estimated, covering 18 percent of the drylands area.
"Within the space of just one year, Collect Earth has filled a major gap in our knowledge of the distribution of the world's forests, and given governments, especially those with large areas of drylands, a major new tool to report on their progress in REDD+, achieving Land Degradation Neutrality, and combating desertification. FAO deserves every congratulation for this huge achievement," said Dr Alan Grainger, of the School of Geography at the University of Leeds.
Collect Earth offers a breakthrough in helping governments to assess land use and land use change, and in their planning of ways to mitigate greenhouse gas emissions. Thanks to the worldwide use of open data policies, the international community now has a new tool way to improve its knowledge and understanding of forests, biodiversity, and the use of forest resources and the effects of climate change on natural resources.